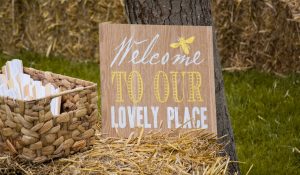 Your closest family generally will stay very close to you during your wedding, be it that they choose to stay in the same hotel or a certain number of rooms may be included in your wedding package. Whether they are paying or you have decided to generously foot the bill, a guest welcome box would be ideal welcoming present to your nearest and dearest. This will also help them to help you on your big day!
Whether you are throwing a destination wedding or hosting a hometown wedding, show your closest guests some appreciation with some gourmet goodies! You may want to give them all to your wedding party, or have them for a select few of your bridal party. Your venue would be happy to place these in your guest's rooms prior to check in, what a lovely surprise for your guests!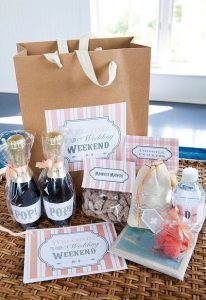 Cute notes and treats that match your theme. This delightful creation from Coral Pheasant holds a personalized note in the Great Gatsby themed style, with an adorable small bottle of bubbly and sweet and salty treats, your nearest and dearest will feel treasured and special.
Keep the packaging simple and personalise the items inside with stickers detailing the date and time of your wedding day.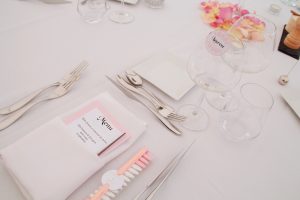 Anyone can pop some tasty nibbles into a coloured paper bag and call it a day. Instead wow your guests with a little thought, having a beached themed wedding? Grab a canvas beach bag, fill it with tropical flavour jellies, a bottle of prosecco and a map of your venue. If your wedding is taking place over a few days, why not include an itinerary, so that you may inform your guests of any fun events.