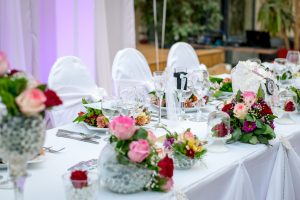 What's a top table? At the wedding reception, the top table is where the wedding couple sit. Depending on your preference, venue size and tables that the venue have, the set-up of the top table can vary. Usually, the couple will like their parents to join them. It is usually distinguished from the other tables with a floral arrangement or distinct centerpiece.
Depending on your preference, the top table can take many different arrangements. Here's a list of arrangements that you can choose from:
Just the two of us!
A table for the wedding couple alone, this option is for those wishing to be at the focal point of the room. Traditionally, for binary couples, the groom would sit on the right of the bride.
The PARTY table
A round table with the wedding couple in the center is the traditional table setting for the top table. The maid of honour and best man sit on either side of the couple. The groom's men and bridesmaids then sit on either side of the maid of honour and best man. You may prefer to have the groomsmen and bridesmaids sitting in alternate positions (if you are doing some matchmaking in your bridal party this may be a good idea!)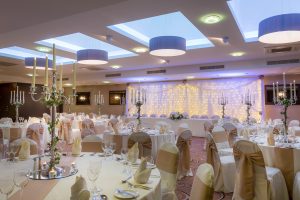 The FAMILY table
This arrangement is typically traditional in Ireland- with the parents of the couples on either side of the grooms along with the maid of honour and the best man. Depending on preference, they can sit at the ends of the table or directly next to the couple.
Other tables
Generally, ring bearers and flower girls sit at a children's table or with their parents (better to keep them entertained away from the top table). The table closet to the top table should be reserved for the closest family and friends of the couple.