When it comes to tasty weddings, we here at Thomas Prior Hall take the cake. Wedding cakes are an essential slice of every wedding and creativity is key. With incredible cake makers all over the country, we have make it easy for you guys and narrowed it down to our top 3- and it was a piece of cake!
Amazing Cakes
To start off (and get the icing rolling), we have chosen to recommend 'Amazing Cakes'. Based in Bray, Amazing Cakes are infamous for their fabulous wedding cakes. Delicately decorated and carefully handcrafted, we particularly love this one. The classic theme mixed with a floral design exudes elegance- don't you think?
The Wedding Cake Boutique
Our second spot goes to the Queen of cakes Caroline of 'The Wedding Cake Boutique', based in Ranelagh, Dublin 6. Caroline uses the most eye catching and creative cake toppers that give a fabulous finish. Modern in style and almost too good to eat, The Wedding Cake Boutique's creations will definitely grab your guests' attention. WARNING- make sure you get a photo as they have been known to vanish fast!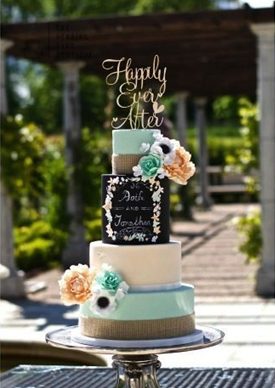 Creative Cakes
Our final choice (and the icing on the cake) is 'Creative Cakes'. Based in Blanchardstown Dublin 15, Creative Cakes can help you make your Pinterest pin-board dreams a reality. Cool, quirky, and most importantly creative, these wedding cakes are like no others. Each one of their designs are unique and individual to each couple- custom made at a new level! With so much design and diversity, we combined a collage of our favourite wedding cakes from Creative Cakes. Which one is your favourite?