Many couples will be touched with loss one way or another. Whether a close relative or friend, it is a lovely thought to remember those that have passed at your special day. One thing to consider is the way in which you remember your lost loved one, without casting a melancholy mood over the celebration. A moment of silence at a ceremony could be a touching tribute, but may be a bit sombre.
The Wedding Team at Thomas Prior Hall have come up with some appropriate ideas that won't dampen the celebratory spirit of the wedding:
Tribute table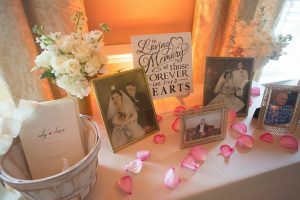 A photo table with all the family wedding photos, both for the living and the deceased, is a way for all you guests to take a nice stroll down memory lane.
Wedding ceremony booklet
Include 'In loving Memory' in the mass booklet, if you are having a church ceremony. Or to the wedding ceremony to the wedding leaflet if you are having a humanist ceremony.
Wedding favours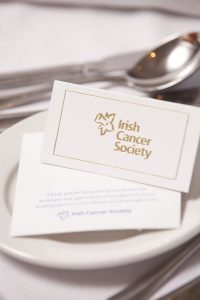 A nice way to remember your loved one would be a donation in their honour to a charity that would be meaningful to them. Most charities will be able to supply small wedding favours or table place settings to encourage your guests to make a donation to your chosen charity.
Save a seat
A lovely way to remember a lost loved one, is to save them a seat at your wedding ceremony. A single seat with a single rose or a small bouquet will act as a physical reminder of a lost loved one, this may trigger some sad memories if the loss is very sudden.
Something blue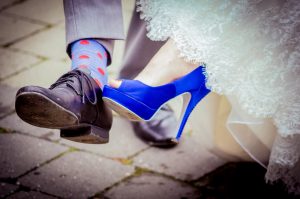 For brides that want to privately remember a loved one, without drawing attention to the loss, but holding the memory dear, a small piece of jewellery or part of the bouquet could hold a small token or memento to the lost loved one. A brooch from a grandmother would be a lovely item to add to a bouquet.