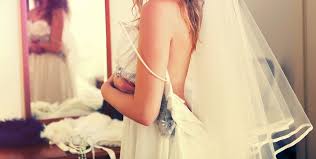 Bridal Beauty Countdown
We all know that there is plenty of planning involved in weddings- who's got time to plan their beauty regime on top of this? So let us give you our tips in our guide to looking fabulous on your special day.
So the average engagement is just over a year. That gives you plenty of time to look like the best version of yourself before all eyes are on you on your walk down the aisle. Follow our pampering stress free schedule to keep your beauty routine on track for the months leading up to your wedding.
5-6 Months before your Wedding
Stress relief regime- reserve one night a week for some non-wedding related fun or quiet time
Start experimenting with your hair now- want to grow it or get a new colour or cut?
Get serious about your skin care. Are you cleansing and mositurising? An enzyme peel or mud masque once or twice a week take care of dull skin, too much fun and too little sleep. Kerstin Florian Moor Mud and gently exfoliates, tightens and give skin instant glow.
Examine our eating habits, but don't crash diet or deprive yourself. If you're not planning to see a nutritionist, stick to specific goals like incorporating more fruit and vegetables into your diet.
If you would like to lose weight before your wedding, set a weight loss target and meet it before your dress fittings begin. Once fittings are underway you will need to maintain your weight. (Or reconsider losing weight. Obviously your partner loves you the way you are)
If you don't already, start exercising. Try Pilates: posture is important and it weeks as a great tension relief as well. You will look great, feel better and be less stressed out.
3-4 Month Before your Wedding
If you don't plan on using your regular hair stylist, make consultation appointments with potential candidates. Take pictures of the hairstyles you like- create a Pinterest board, as well as pictures of you veil and headpiece. If you wear your hair in an updo, discuss with your stylist how long it will take to grow out so it's the right length for your desired look.
Make consultation appointments with potential make-up artists. Be sure to take pictures and anlayse them. Make it part of your hen night, have a trial session on the morning of your hen. Wear the makeup on a night out and see how it stays on your face. Do our features stand out? Does your ace feel like your wearing a mask?
Decide on a make-up artist and book them in for your wedding date. Set up a day of wedding schedule
Decide on a hairdresser and book them in for your wedding date. Set up a day of wedding schedule
Want to experiment with spray tans? Now's the time. Consider the neckline of your dress and whether you have existing tan lines you will need to cover.
1-2 Months before your Wedding
Meet up with your make-up artist for a trial run. If you aren't hiring a pro, get a makeover at a department store counter, buy the products and practice at home.
Bring your veil to your hairstylist and get a trial run. Make sure you are happy with it, now is the time to speak up.
Have you ever considered having your eyebrows professionally shaped? Why not? It's your wedding day, its time to try!
How is your skin, need a more glowing and radiant complexion? Try weekly masques rich in anti-oxidants, this will add a glow to your skin.
Don't forget your body, you need to have silky smooth skin especially elbows knees and hands and feet. A full body scrub will brush away all the dull dead skin and leave your radiant and smooth.
Cut down on tea and coffee now and try to increase your water intake to 2 liters a day. Consider using a whitening toothpaste or you may want to consider professional bleaching by a dentist.
2 Weeks before your wedding
Get your final haircut or trim. No experimenting with colour, just stick to what you love.
Remember to eat right. Load up on health green vegetables and protein, cut out sugar salt and trans-fats.
Drink plenty of water, remember healthy skin depends on this! Clear and glowing skin comes from both inside and out.
Touch up your hair colour
Confirm your wedding day beauty appointments
1 Week before your wedding
Avoid overindulging in salty and greasy snacks and alcohol at the fab pre-wedding parties, your skin and waistline will thank you!
Get waxing, bikini, brow, legs- you want to be prepared for honeymoon lingerie!
Splurge on a pampering full body couples massage, both you and your partner need time together before your marriage to reconnect and unwind.
Get your feet ready for dancing and honeymoon getaway sandals with a pedicure.
 2 Days before your wedding
Drink lots of water! Have we made ourselves clear!!!
Pack an emergency beauty kit of items you shouldn't leave home without
Deep condition your hair.
Have a manicure, pay special attention to this as you need to be ring selfie ready!
Have your full body spray tan, it looks better after you have showered.
On Your wedding Day
Remember to eat a healthy breakfast. It will keep you energized for the long day ahead.
Get your hair and makeup done. Wear a robe or a button down that (one matches the colour of your gown, if possible, to get the right make-up colour application) that can be easily removed.
Enjoy your day!